A powerful earthquake in Morocco's High Morocco earthquake Atlas mountains has killed hundreds of people after buildings collapsed and people fled their shuddering homes in several cities and towns.
A local official said most deaths were in mountainous areas that were hard to reach.
"The earth shook for about 20 seconds. Doors opened and shut by themselves as I rushed downstairs from the second floor," said Hamid Afkir, a teacher in a mountainous area west of the epicentre near Taroudant, adding there had been aftershocks.
Morocco's geophysical centre said the quake struck in the Ighil area with a magnitude of 7.2. The US Geological Survey put the quake's magnitude at 6.8 and said it was at a relatively shallow depth of 11.5 miles (18.5km).
People in towns across Morocco have spent the night sitting outside their homes after the earthquake, a British journalist living in the country says.
Residents of Marrakech, the nearest major city to the epicentre, said some buildings had collapsed in the old city, a Unesco world heritage site. Initial reports said part of a minaret that towered over Jemaa el-Fnaa, a market square and hub for visitors, had collapsed, injuring two people, before local residents fled to the open area of the square to seek shelter.
Local television showed piles of rubble and broken pipes crushing parked cars and blocking streets across Marrakech, as residents rushed into the street after the quake struck at 11.11pm on Friday. State TV showed people wrapped in blankets sleeping in the street, fearing further aftershocks.
"I was returning home when the earthquake struck. My car rocked back and forth, but I didn't imagine for a single second this meant there was an earthquake happening," said Fayssal Badour, from Marrakech, who spoke to France24.
"I stopped and I realised the catastrophe … it felt like we were on a river that suddenly burst its banks. The cries and the shouts were unbearable."
On Saturday morning, Moroccan TV reports raised the death toll to 632, with 329 injured, citing the interior ministry. Earlier, the ministry said there were hundreds of deaths in the provinces near the quake centre. The ministry added that most damage occurred outside of cities and towns.
Speaking to BBC Radio 4's Today programme, Martin Jay said: "There were reports coming through on Moroccan media warning people not to go back into their homes," he said.
"This was a nationwide message that was put out by the authorities.
"So you have this weird evening [in] almost every single town in Morocco, [where] most people are sitting on the ground outside of their houses or apartment blocks, because they were afraid of the second earthquake which they predicted would come two hours later."
The quake's epicentre in a remote area of the High Atlas Mountains was relatively shallow – and tremors were also reportedly felt in the capital Rabat, some 350km away, as well as Casablanca and Essaouira.
Simple buildings in mountain villages near the epicentre may not have survived and, being remote, it may take some time to determine casualties there.
British journalist Martin Jay, who lives in Morocco, was woken by the sound of screams.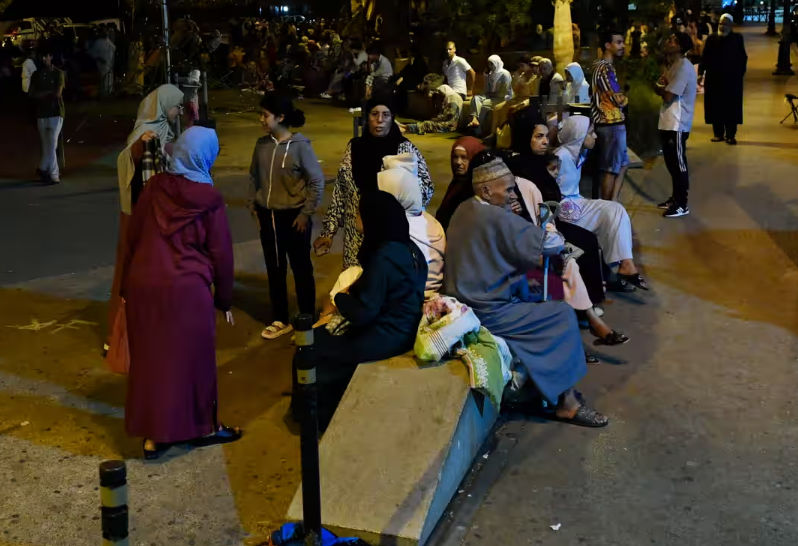 He told the BBC Radio 4's Today programme there was "this weird evening of almost every single town in Morocco, most people are sitting on the ground outside of their houses or apartment blocks, because they were afraid of the second earthquake which they predicted would come two hours later. Thank God it didn't".
The quake was also felt in neighbouring Algeria, but officials said it had not caused any damage or casualties.
Speaking at the G20 summit in Delhi, Indian Prime Minister Narendra Modi said the international community would come to Morocco's aid.
Spanish Prime Minister Pedro Sanchez offered "solidarity and support to the people of Morocco". French President Emmanuel Macron said he was "devastated" by the news and offered assistance to Morocco.
The tremor struck late Friday night and had an initial 6.8 magnitude when it hit at 11.11pm local time, with shaking that lasted several seconds. Morocco's National Seismic Monitoring and Alert Network, however, said the earthqauke struck at a magnitude of 7.2 on the Richter scale.
The epicentre of the earthquake was in the Ighil area of the High Atlas mountains, said the agency. A 4.9-magnitude aftershock was reported just 19 minutes after the earthquake, according to the US Geological Survey.
Most of the deaths have occurred in mountainous areas that are hard to reach, the interior ministry said earlier.
Videos have emerged of several buildings being reduced to rubble and have left parts of the famous red walls in Marrakech damaged.
Some buildings in the old city, a Unesco World Heritage site, with photos of smashed cars and rubble all over emerging.
Montasir Itri, a resident in the mountain village of Asni not far from the epicentre, said most houses were damaged – adding: "Our neighbours are under the rubble and people are working hard to rescue them using available means in the village."
Local journalist Rida Fakhar was in Marrakech when the earthquake struck and told Sky News it was much more powerful than other tremors he has felt.